In the news.
Prime Time Auctions' Hernandez earns title
January 29, 2014
POCATELLO — Prime Time Auctions' Staci Hernandez recently graduated from the World Wide College of Auctioneering.
Moreover, Hernandez has earned the title of "Colonel" thanks to training that occurred from Nov. 16 through 23.
The students specifically received instruction in the areas of real estate, benefit charity fundraising, automobile, farm, antique and specialty auctions, vocal training and auction law. Among other subjects were business management, technology, marketing, networking, online auctions and the development of an auction chant and bid calling.
Established in 1933, World Wide College of Auctioneering has trained more than 40,000 auctioneers throughout the United States, Canada and various countries throughout the world, according to a news release.
Kare11 TV
Source: Idaho State Journal
Biz Bits
Pocatello Chamber of Commerce has awards banquet
October 3, 2013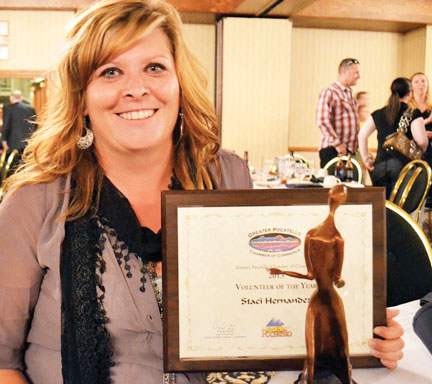 Staci Hernandez, owner of Prime Time Auctions, became the first person to win both the Minnie Howard Award and Volunteer of the Year at the Greater Pocatello Chamber of Commerce annual awards banquet held at the Red Lion Hotel in Pocatello Wednesday night.
POCATELLO — It was an astonished Staci Hernandez who came up to accept the Minnie Howard Award for service to the community at the 112th Greater Pocatello Chamber of Commerce awards banquet Wednesday night. But the night wasn't over for Hernandez. She would step up to the podium inside the Red Lion again to accept the Volunteer of the Year award.
"I'm very humbled to accept this award," Hernandez said about the Minnie Howard Award. "I think our community is a wonderful one."
Dr. Minnie Howard was a Pocatello pioneer and a physician who helped establish Pocatello's first public library and organized art and history programs in the area as she practiced medicine at the turn of the 20th Century. The criteria for the award are a professional woman in the community who has demonstrated leadership and helped in the success of other women.
As Hernandez's award was being announced, 2012 recipient Claudia Tremelling mentioned the fundraising efforts that Hernandez and Prime Time Auctions had spearheaded, including one for Idaho Medal of Honor winner Angie Smoot, who was seriously injured last spring while helping to stop an attack on another woman in the Boise Town Square Mall. Smoot and Hernandez are lifelong friends.
"I have a passion for our community," Hernandez said following the banquet. "We have a unique business where we can offer our services in the different way and that's what brought me into this."
Hernandez said her dedication to the Chamber of Commerce took a huge turn when she enrolled in Leadership Pocatello. Prime Time has been a member of the Chamber since 1997
Numerous awards were presented Wednesday night.
Source: Idaho State Journal
Story By: Michael H. O'Donnell
Benefit held for Angie Smoot: Boise mall victim also survived cancer as a teen
August 4, 2013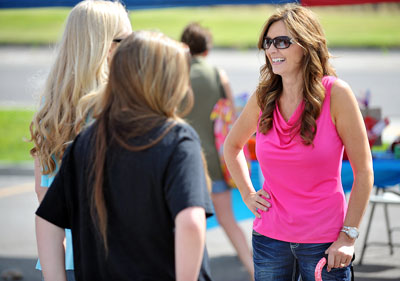 Recovering from injuries she recieved when she was struck by a pickup in the Boise Towne Square Mall on May 14, Angie Smoot, right, relied on a cane to help her walk and mingle with friends and family Saturday at a Fundraiser in her benefit at Prime Time Auctions.
POCATELLO — People from across the state converged on the parking lot of Prime Time Auctions on Saturday to pay tribute to a woman who was seriously injured while helping to stop a sexual assault in the parking lot of the Boise Towne Square Mall on May 14.
Using a cane to help her walk, Angie Smoot was busy hugging old friends and shaking hands with strangers, who had come to the fundraiser to help cover medical costs for the mother of two sons who put herself in harm's way and paid the price.
Smoot has been recovering from the broken right leg and fractured left hip and pelvis she suffered when a fleeing suspect drove his pickup into her.
Greggory Lee Macho, 31, of Boise, has been charged with four felonies in the incident, including kidnapping and aggravated battery. In addition, Boise police charged Macho's wife, Jessica, and his brother Richard with destroying evidence in the case.
Even though strangers walked up to Smoot on Saturday afternoon and thanked her for what she did that May 14 evening in Boise, she was the one giving thanks.
"I'm shocked at how many people come together and show support," Smoot said. "I keep telling my boys there's a lot more good people than bad people."
Since Angie's story was printed in the Journal and the Idaho Statesman, the family has received dozens of cards, letters and donations.
"It's amazing the cards that my wife has been getting," her husband, Ryan Smoot, said. "People she has never met have offered to help her out. I've never experienced anything like this before."
Angie said reading those letters isn't easy for two reasons. First, she doesn't consider what she did particularly heroic and, second, the concern and thanks make her cry.
"I definitely shed tears when I read them," Angie said. "I've saved all of them."
But Angie's struggles to recover from injuries in the Boise assault case are not her first bout with serious medical issues, according to her best friend and owner of Prime Time Auctions, Staci Hernandez. Angie is a cancer survivor.
The two have been best friends "since the first day of seventh grade," Hernandez said.
Shortly after she graduated from Pocatello High School, Angie was diagnosed with a cancerous growth in her abdomen. Surgeries and chemotherapy followed.
"She's a strong, strong person," Hernandez said about Angie's battles in life.
With tears in her eyes, Hernandez shared a glimpse into Angie's true character.
"After she recovered from cancer she said, 'I'm glad it was me and not you. You wouldn't have made it,'" Hernandez said.
Hernandez, who had helped put together Saturday's fundraiser, said the generosity of Southeast Idaho never ceases to amaze her. Donated items, including a free bed liner treatment for a pickup and a custom granite countertop, were still coming to the auction as the fundraiser was starting.
"We live in a great community," Hernandez said.
In addition to items for the auction, both silent and live, cash donations were made by groups and companies including Intermountain Gas, Idaho Power Co., Gate City Rotary and Pocatello Rotary.
And the money raised by the event will go to good use, according to Hernandez. Angie's medical insurance doesn't cover the intensive physical therapy sessions she must undergo three times a week. That therapy will continue for several more months.
"I just hope this helps," Hernandez said.
Angie has a different take on all the efforts done on her behalf.
"It makes me want to help people in the future," she said. "Every little bit makes a difference."
And as the criminal case moves through the court system, Angie has remained in touch with the young woman who was being attacked in a parked car at the Boise mall. They connect on Facebook.
"I think she's had a lot of guilt over it," Angie said about the fact her attacker drove his truck into Angie. "She's thanked me many times, but none of this was her fault."
Then Angie revealed her nature again.
"You know, today's her birthday," Angie said.
Source: Idaho State Journal
Story By: Michael H. O'Donnell
Prime Time Auctions earns business award
May 2, 2012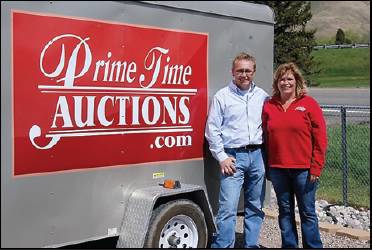 POCATELLO — Tanner and Staci Hernandez said they were surprised and humbled when they got the call from the Small Business Administration in Boise telling them that their business, Prime Time Auctions in Pocatello was the recipient of the Jeffery Butland Family-Owned Business of the Year award.
"It's just really nice to be recognized for hard work," Tanner Hernandez said. "It also really helps to get the word out about our auctions and shows people that auctions really do work. They are a viable way to buy and sell items."
He added that it's his full time staff of 10 and parttime staff of 18 more that make their business successful.
The locally owned business was nominated for the award by their banker, Michael Bushman of Key Bank, who could not be reached for comment.
"It's nice when your banker is looking out for you," Tanner said. "It's really nice too when he thinks that highly of you to do something like this."
Though the company has been around for some time, Tanner said they are currently working to expand their services. The business recently added online only auctions and Auto & RV "Dealer Style" auctions.
"Business changed during the recession," Tanner said. "It's a misconception that auctioneers do well during these types of situations. During this past recession, the number of members in the National Association of Auctioneers went down by 30 percent, so you have to change with the times."
"You have to work harder and smarter for the same results," Staci added.
The couple said that in the near future they do have some big business plans as they plan to build a new building at their location at 3400 S. 5th Ave. and when asked if they had any advice for other business owners, the reply was straightfoward.
"Do what you love and love what you do," Staci said. "Determination, commitment to the good and the bad, learn and never give up."
Prime Time Auctions will be given their SBA award on June 1 at the Pocatello Chamber of Commerce luncheon.
Source: Idaho State Journal
Story By: Michael Farnworth
Pocatello chamber hands out awards
October 6, 2011
POCATELLO - As he described the Chamber's Member of the Year Wednesday evening, Matt Hunter, stopped, looked at the crowd of more than 250 people, and said the description could fit almost any member of the Greater Pocatello Chamber of Commerce.
His thinly veiled ruse began to become apparent rather quickly when he suggested the award should be auctioned off and asked if there was an auctioneer in the crowd.
"Sold to Tanner and Stacie Hernandez with Prime Time Auctions for our 2011 Member of the Year," Hunter, executive director of the Chamber, then revealed.
Both Tanner and Stacie made their way to the front of the large room at the Red Lion Hotel to accept their award.
Source: Idaho State Journal
Story By: Jimmy Hancock
Auction of late philanthropists items draws crowd
May 22, 2011
POCATELLO - Some of the items sold in Saturday's Beverly Bistline Estate auction included a signed Harry Truman photograph, a vintage Underwood typewriter, several historical documents, and military memorabilia.
More than 330 people attended the auction, a number that Tanner Hernandez of Primetime Auctions says was a very good turn out.
'A lot of stuff was divided up between family members,' Hernandez said. 'She donated thehouse to her church, The First Congregational United Church of Christ, and we just needed to come in and find homes for the rest of the items.'
The items that went up for auction included several items of historical value to Pocatello and the surrounding area, including books, and newspapers.
Bistline was a local philanthropist known for her devotion to the arts in the area.
Though she is well known for her generosity, and giving when it came to the arts, Bistline was also dedicated to public service, which is well documented through her endeavors as a U.S. Navy veteran, and former state legislator. She was also quite notably remembered as the 26th woman admitted to the Idaho State Bar.
Some projects around Pocatello that Bistline created endowments for include The Portneuf Greenway Foundation, the Pocatello Symphony, and The L.E. and Thelma E. Stephens Performing Arts Center. She also made several generous gifts to ISU.
The 430-seat theatre in the Performing Arts Center is named the Beverly B, Bistline Thrust Theatre, in memory of her many contributions to the community she loved.
Bistline was born in Coeur d' Alene on Aug. 28, 1922, and died of age-related causes at 88 years, on Oct. 23, 2010.
By the end of the auction there had been 165 registered bidders, and the highest bidding item was a set of sterling silver flatware that sold for $4,500.
'One of the most surprising items we had,' Hernandez said, 'was a painting that ended up selling for $1350. That's something we hadn't expected.'
There were several items that sold for between $100 and $600.
'I think the estate will be very satisfied with how things turned out today,' Hernandez said.
Source: Idaho State Journal
Story By: Michael Farnworth
Heritage Hess Museum and its items being auctioned off
September 17, 2010
ASHTON - After 30 years of preserving local artifacts, the Heritage Hess Museum in Ashton is closing down for good. With this sad news though comes an opportunity for you at home.
Every item in the museum is being auctioned off, so this is your opportunity to take a piece of history home with you. Visitors used to spend hours perusing through the hundreds of relics and exhibits that a local family collected over the years.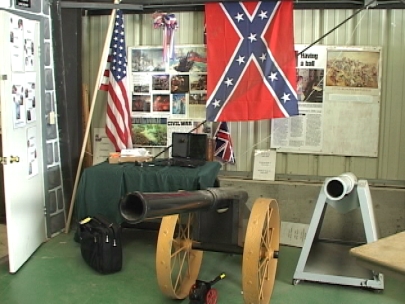 The Heritage Hess Museum was the passion of Dan and Mary Hess for almost 30 years. They had a knack for preserving historical finds from over the last 200 years. Everything in the museum will be sold, including 22 acres of land, and a home.
"This is going to be a once in a lifetime opportunity. The museum here, the items have never been seen before. A lot of people would pay to come in and view the items," said Tanner Juan Hernandez with Prime Time Auctions.
And now you have an opportunity to take these items home with you.

"This is a 1952 fire engine, and it is the 2nd fire engine from the Rexburg Fire Department. A little piece of Rexburg history somebody will be able to bid and take Rexburg history home with them," said Hernandez.
This museum has a look back on every sort of thing you can think of including weddings and what they looked liked in the 1940's.
And you can compare those clothes to the 1890's and see how much of a difference 50 years makes in our culture.
"They just put a lot of heart into it. As you walk around the museum it takes several hours just to enjoy it and look at it," said Hernandez.
The owners of the museum passed away 4 years ago, but they're love for teaching will be felt for years to come. All the funds raised from this auction will go toward scholarship funds for BYU-Idaho students.
The auction will go on next Friday and Saturday. If you can't make it out to Ashton, they will have online real-time-bidding.
The auction will take place at the Museum located at 3411 E 1200 N Ashton, ID 83420, which is 1 Mile South of Ashton Idaho, just on Hwy 20. There will be 2 Auctions Friday Afternoon beginning at 4:00 pm and 2 Auctions on Saturday beginning at 10:00 am.
People that cannot attend will be able to bid online prior to or during the live auction. Complete Catalog with pictures is posted at www.primetimeauctions.com Preview is Friday prior to the auction starting at 11:00 am. With a remembrance service at 3:00 pm, 1 hour before the first item will be sold. Concessions and seating will be onsite.
Source: KIDK Television
Story By: Steven Pope
Museum auction raises nearly $15K
April 3, 2010
POCATELLO - Last Saturday's Idaho Museum of Natural History auction raised nearly $15,000, which will be used to fund future exhibits and help with renovations currently underway.
The original goal was to raise $10,000.
According to Tanner Hernandez , president of Prime Time Auctions, which ran the event, more than 160 collectors, mostly from Southeast Idaho, showed up to place bids on everything from museum gift shop items to unique petrified wood.
"It was a good way for them to clear out some of the things that don't belong with their theme and their bookstore," Hernandez said.
Source: Idaho State Journal
Story By: Swenson, Ty
Museum to auction some of its collection
March 27, 2010
POCATELLO - Want to own an actual piece of natural plumbing taken from a geyser? Need a rare book? How about special military-issued currency dating back to World War I?
The auction scheduled for 10am today at the Idaho Museum of Natural History will be no typical sale. The museum, located on the Idaho State University campus, is selling off some of its collections and the inventory from its gift store, seeking to raise more than $10,000 to fund future exhibits and to help cover renovation now under way.
Throughout Friday, potential bidders got a chance to preview thousands of items ranging from books and toys to fossils. The event is being conducted by Prime Time Auctions.
The renovations will make room for items that have been in storage at the museum to be displayed. Prime Time Auctions President, Tanner Hernandez, said the live, on-site auction will start with geology collections including "geyser pipe," which is formed below ground by mineral deposits left from geyser eruptions. Hernandez also serves as a docent at the museum.

Antique linens, smoking pipes, and paintings will be auctioned along with piles of lumber and several fish tanks.
Hernandez said two auctioneers and about 10 Prime Time staff members will man the sale. Items for the sale were posted online, and Hernandez said his crew received a number of inquiries prior to the auction.
Collectible items being sold include a series of 1960's stamps, most of which are in pristine condition, and World War I and World War II era currency.
The sale will also include three rare books. One of them, a first-edition copy of the 1936 book "Proboscidea" by Henry Fairfield Osborn, was listed for sale online Friday by a Florida book seller at $1,150.
Prime Time Auctions charges a sliding scale commission for each item sold.
Hernandez said the Pocatello-based auction company spent the past five weeks cataloging items in preparation for the sale.
A number of new and used books, T-shirts, toys, and souvenir items from the gift shop will also be sold.
The state museum, housed on the Idaho State University campus, underwent major restructuring last year, said Mary Thompson, Earth Science collections manager. The changes resulted in closure of the museum gift shop and interior renovations to make room for new exhibits.
Thompson said when the museum reopens next fall, its focus will be on Ice Age mammals.
New exhibits at the museum will include casts of Smilodon, which are saber-toothed cats that once roamed Idaho, as well as the Hagerman horse.
"The (Hagerman horse) is the first one-toed horse found in fossil record, and a number of them were found near Hagerman," Thompson said. "It's also the state fossil."
The Bureau of Reclamation funded the museum's future exhibit, which will highlight bison found at the American Falls Reservoir site.
The state museum saw budget cuts of about 4 percent this year. Funding for the museum comes from research grants, state funds and some private donations.
Source: Idaho State Journal
Story By: Debbie Bryce
Prime Time Auctions Honored at Convention
January 27, 2010
POCATELLO ? Prime Time Auctions brings home numerous awards from the Idaho Association of Professional Auctioneers convention yet again.
This year's convention was held in Boise on January 8th and 9th and was attended by auction companies from across the state. The competitions this year consisted of auctioneering, bid spotting and marketing, advertising, and web design.
Prime Time's own auctioneer and Vice President, Roger Stockwell, was awarded the honor of first runner up in the auctioneer competition. Josh Houk of Emmett earned the award of Idaho State champion auctioneer. Prime Time was pleased to have Josh as guest auctioneer during its October 2009 community auction.
The IAPA also hosted a marketing, advertising, and web site contest at this year's convention. Prime Time Auction's marketing team brought home three first-place awards from the competition and their web site www.primetimeauctions.com was deemed Number 1 for the fourth year in a row.
Prime Time Auctions is excited to announce that Roger Stockwell was elected to serve as president for the Idaho Association of Professional Auctioneers this year and Bill Taylor, part-time employee of Prime Time, was elected to serve as vice president for the association.
Source: Idaho State Journal
Story By: Prime Time Auctions Honored at Convention
Prime Time Auctions Honored at Convention
March 19, 2009
Pocatello - At this year's Idaho Association of Professional Auctioneers convention, Pocatello company, Prime Time Auctions won awards in several categories.
This year's conventions was held in Coeur d'Alene Jan. 9 and 10 and was attended by auction companies from all over the state.
Roger Stockwell, sales manager at Prime Time, participated in the auctioneer competition and was awarded the honor of first-runner up. Bill Taylor entered the Rookie Auctioneer contest for the first time and took home the blue ribbon.
Of the nine categories in the competition, Prime Time Auctions won seven first-place awards this year and two second-place awards. Its Web site, www.primetimeauctions.com, won first place for the third year in a row.
In 2008, Prime Time also recieved a national marketing award at the National Auctioneer Association held in Nashville, Tenn. The event was attended by Prime Time's Marketing Director Channing Dertien and Office Manager Angelina Guzman.

Source: Idaho State Journal
Story By: Biz Briefs
Landmark Area Resort to be Auctioned
December 10, 2008
American Falls - A once popular resort and camping area that was first established in 1919 will be on the auction block on Dec. 20.
Prime Time Auctions, based in Pocatello, announced Tuesday it's auctioning the Indian Springs Resort and RV Park, in conjunction with Premier Properties Real Estate.
The suggested minimum bid will be $445,000. It includes 182 acres and an Olympic-sized swimming pool heated by geothermal water. It also has a campground with 120 sites.
The auction will be hosted at 10:30 a.m. on the site, located about a mile west of American Falls off of the Rockland Highway. Tanner Hernandez, president of Prime Time Auctions, will be the auctioneer. He anticipates members of the public will come to watch, and he said hors d'oeuvres will be served.
"I think it does have a wonderful history. We get a lot of people saying, 'Our school groups went there at the end of the year,'" Hernandez said. "It does have a place in a lot of people's hearts."
Hernandez said the resort has been closed to the general public for two years, but the owners, the McKinney family of Pocatello, have booked it for private events.
"The county and the city are really interested in getting it up and running. They've been really nice to work with and saying they'll do whatever they can to get it operational again," Hernandez said. "They're looking forward to having (the new owners) go to council meetings and doing what they can to help."
Four years ago, Hernandez said the property was listed at $990,000.
The resort also includes a few 90-degree geothermal streams that run outside of the swimming pool, which support exotic fish, warm ponds and a cold creek.
Hernandez said there's also an old caboose on the property that many visitors have fond memories of.
For more information, visit primetimeauctions.com.

Source: Idaho State Journal
Story By: John O'Connell
Prime Time Auctions Wins Several Awards
January 29, 2008
Pocatello - The Idaho Association of Professional Auctioneers held its annual convention this year in Boise on Jan. 18-19.
This annual event included an auction, auctioneer and bid spotter contests, classes and seminars about the auction industry and an awards banquet.
IAPA members from all over the state gathered for the event to attend the business and board of directors meetings.
The Pocatello company, Prime Time Auctions, was in attendance at the event.
Roger Stockwell, sales manager and 2007 IAPA President was there to pass the gavel to new president, Reed Nord of Rigby.
Stockwell also participated in the auctioneer competition and was awarded the honor of first-runner up.
Prime Time General Manager, Tanner Hernandez won the auctioneer competition last year and this year was the emcee for the awards banquet festivities.
The annual convention also hosts a marketing contest for the auction companies to be judged on their web pages and print advertising.
Of the nine categories in the competition, Prime Time Auctions won six first-place awards this year and three second-place awards.
The companies' website, www.primetimeauctions.com, won first-place for the second year in a row.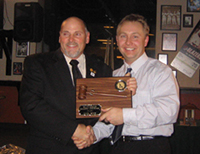 Roger Stockwell, left, and Tanner Hernandez, of Prime Time Auctions, pose with one of the many awards the Pocatello company won at the Idaho Association of Professional Auctioneers annual convention recently in Boise.
Next year's convention will be held in the northern region of Idaho. Last year's event took place in Pocatello.
Source: Idaho State Journal
No Whimper Here; After 32 Years Joyce Closes Doors Celebration-Style
December 5, 2007
Preston - Joyce Williams closed her business doors after 32 years of arranging flowers for wedding, funerals and husbands in trouble. Then there were flowers and crafting. Then flowers, crafting and scrapbooking, then slowly it was just scrapbooking.
Most of her business career has been on State Street. In 1990 she swapped buildings with Doris Foster, who also closer her State Street Styles doors in November.
For Williams, when she locked the doors, most everything was gone. Shelves, inventory and even some cabinets, anything not mounted to the floor, walls or ceiling were gone by day's end.
It wasn't an easy decision going with an auctioneer. After some reservations, she decided to do it. She said she wanted it to be fast, fun and be done with it.
"After all these years of being in business, owners have a hard time letting go of some things. But at an auction, it's hard to be sentimental when everything goes so quickly."


- Mike Bosen

"I wanted it to be a celebration, and I wanted it done quickly, not a long, drawn out sale, " she said.
The advantage to the auction was they took care of the advertising and contacting people who may be interested in the unique inventory of a scrapbook store. Roger Stockwell and his crew set up tables and took care of the registration, and of course the quick tongue of the auctioneer.
Mike Bosen, who was on hand to help his friend and fellow auctioneer of Prime Time Auctions, said there is more of a party doing it this way.
"After all those years of being in business, owners have a hard time letting go of some things. But with an auction, it's hard to be sentimental when everything goes so quick," he said.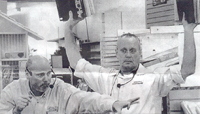 The auction company found potential buyers from in and out of the county who had an interest in Joyce's inventory.
About 60 people showed up with money in hand. They registered, took a number and sat down as the auctioneer began his banter.
"People have the mistaken impression auctioneers bid things up. Generally people pay what they think it is worth, and some things are practically given away. It all evens out," Bosen said.
Stockwell does some 50 or so engagements a year. Only about 20 percent of his gigs are business closings.
After over three decades of business, Williams is letting go. As with most of the business owners who have worked for that length of time and developed a client base, it's tough to walk away.
"I feel good that most of the inventory was bought by three other businesses in town. I want to thank all of my customers who have supported me through the years," she said.
Williams said she wasn't sure what she was going to do now.
"She wanted to travel. Maybe we can get her a paper route," her husband, Robert, said.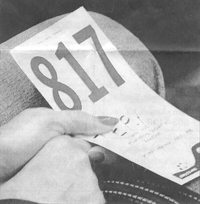 Roger Stockwell of Prime Time Auctions added energy to the closing of Joyce Williams' scrapbooking business. They emptied out the store in a day and sold things that might otherwise be sitting there when she closed the door for the last time. Stockwell was aided in his efforts by fellow auctioneer Mike Bosen.
Source: The Preston Citizen
Story By: Rodney D. Boam
Graduate Realtor Institute
April 17, 2007
Sylvia Crockett and Tanner Hernandez recently completed 96 hours of continuing education to become a GRI's or Graduate of Realtor Institute, a designation given to real estate professionals nationwide. He took classes on contracts in real estate transactions and negotiations, business planning and technology, sales and marketing and tax and investment property among others. He is a licensed real estate agent at Prime Time and has 10 years of real estate experience.
Source: Prime Time Auctions
Story By: Prime Time Auctions
IAPA Auctioneer Convention Results in Local Winners
February 5, 2007
Pocatello - This year the Idaho Association of Professional Auctioneers annual convention and contest was held in Pocatello, ID for the first time. The event included continuing education seminars, a board of directors meeting, and an auctioneer's competition. The convention was a huge success, not only for Pocatello and the association, but for local company, Prime Time Auctions. Prime Time's General Manager, Tanner Hernandez, won the competition and was named the Idaho State Auctioneer Champion for 2007. In addition, Sales Manager, Roger Stockwell, was voted President of the Association.
Stockwell said he was extremely pleased with the support shown by those in attendance.
"It's a great way for auctioneers to network with others in their profession," said Stockwell. He went on to say that Pocatello was a great place to hold this convention.
"We had a great group of contestants and judges here in Pocatello. To have our own local talent win top honors was the icing on an already sweet cake!" he said.
Prime Time also won two 1st place awards in the advertising contest, one for their website (www.primetimeauctions.com), and another for their print advertising. They also won a number of 2nd place awards. Next year's convention will be held in Boise.
Source: Idaho State Journal
IAPA Auctioneer Contest & Convention Comes to Pocatello
January 8, 2007
Pocatello - Prime Time Auctions to host annual event in Pocatello. Every year members of the Idaho Association of Professional Auctioneers gather for their Annual Convention. This year the event will be taking place in Pocatello, ID for the first time in the convention's history. Local company Prime Time Auctions is hosting the convention and anticipates a great turn out of auctioneers from across the state.
The event begins the morning of Friday the 19th at the Red Lion Hotel for convention attendees and continues into Friday night with a public auction that starts at 6pm. Auctioneer and bid caller contestants will take turns auctioning items as part of the contest. The public is invited to bid on these impressive estate and antique items and for their favorite auctioneer.
On Saturday, classes and speaker meetings will be held throughout the day, ending with an awards banquet Saturday night. Prime Time Auctions' own Sales Manager, Roger Stockwell, took first runner up at last year's event. For more details about this event, go to www.primetimeauctions.com
Source: Idaho State Journal
Artwork, Home Set for Auction; Residents Can Purchase from Estate of the Neu Family
June 15, 2006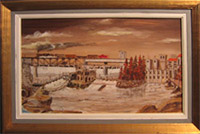 This is one of the items to be featured in the auction of the estate of Emil and Helena Neu Saturday in American Falls. Visit this link for details and photos.
American Falls - This Saturday the community will have the opportunity to purchase items from the estate of Emil and Helena Neu. The items will be sold by auction, and will feature a variety of original artwork as ell as real estate, furniture, antiques and much more.
Neu, a well-known local artist, passed away in 1998. Mrs. Neu has since moved to Utah to be closer to family.
The home that will be auctioned was purchased by Emil and Helena Neu in 1970. Both were active and well-known throughout the community.
"Almost everyone knew them, unless people were new to the area," said daughter Rita Atkinson.
Neu's artwork was celebrated throughout the area. He was most renowned for his scenic paintings of farms, as well as other locations, around American Falls. Neu was also a gifted still life artist. A variety of these beautiful works will be up for bid Saturday.
Helena Neu was known for her sewing, crocheting and embroidering work. A few of her lovely pieces will also be included.
Source: Idaho State Journal
Koseris Estate Brings $1.3 Million at Auction: Sale Included Vehicles, Records and Apartments
May 8, 2006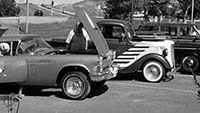 Pocatello - The estate sale of Pocatello broker and entrepreneur Nick Koseris sold for $1.3 million Saturday.
The one-day event attracted bidders from Utah, California and Arizona, as well as hundreds of Southeast Idaho investors and treasure hunters.
Prime Time Auctions spokesman Tanner Hernandez said estate items ranged from prime commercial and residential properties and vintage cars, including, a 1957 Ford Thunderbird that sold for $19,000, to a Greek record collection that sold for $250.
"The family benefited well," he said. "It was a really successful event, we all walked away with a good feeling."
Tanner said he was confident in the preliminary figure, but said mortgages, taxes, utilities and management fees will still have to be paid.
Among the trinkets, antique tins and collectable tavern paraphernalia, was an assortment of gaming items including old dice, cards and coin rollers dating back to the 1950s, most carried a Club 30 logo.
The Koseris Family owned the nightclub, named for its location on Old Highway 30 and once a popular gambling destination.
More than 500 bidders preregistered for the real estate auction.
Each real estate buyer agreed to provide a deposit of $3,000 for each residential property and $10,000 for commercial. The winning bidders deposit is held as earnest money until the sale closed.
Tanner said an apartment complex on Pershing Avenue sold for $460,000.
Retired Pocatello attorney John Looze said family member Freda Rock, of Utah, hired him in November to act as a personal representative for the estate.
Koseris died of cancer more than two years ago.
Looze said proceeds from the auction would be held in trust for Nick's mother, Sophia Koseris, who resides in a long-term care facility in Pocatello.
Upon her death, half of the trust goes to Rock and the other half to the Greek Orthodox Church in Pocatello, he said.
As well as Koseris' personal affects, Looze said the estate included two liquor licenses and a corporation
"It's my job to sell it for the family, collect the money and set up the trust, it will be managed by a trustee after that," he said.
Looze commended the Prime Time crew.
"They just did a great job, they got people in the mood to buy," he said.
Looze said it was the first estate sale he's been involved in and he was happy with the results. Looze plans to travel to Hungary in August to teach English near Budapest.
"I've always wanted to work overseas and I did my research," he said. "I'm looking forward to it."
Rebeca Stokes, an advertising manager with Prime Time, said coordinating such a large estate auction is labor intensive and online bidding makes it a nationwide event.
Prime Time Auctions does about 24 estate auctions a year, she said. A video auction of real estate included in the estate drew investors and developers, while hundreds of collectable items were sold online.
Drew Billeter drove from Sandy, Utah, to pick up a set of china she bought online. Billeter paid $250 for the china.
The complete service for eight was a birthday present for her daughter.
"It's nice china, my daughter found it and liked and I wanted to buy it for her," Billeter said.
Source: Idaho State Journal
Story By: Debbie Bryce, Journal Writer
Local Auctioneer Places in Competition
January 28, 2006
Pocatello - Roger Stockwell and Doug Herbert, both of Pocatello-based Prime Time Auctions, traveled to Post Falls for the 2006 annual Idaho Associate convention and competition Jan. 20-21.
Stockwell took second place in the professional auctioneer division of the competition.
He also was elected as vice president of IAPA.
Approximately 30 auctioneers and auction staff attended the convention, which includes continuing education seminars, a board of directors meeting and an auctioneers' competition.
Stockwell said that attending conventions is essential in keeping Idaho auction companies competitive.
Source: Idaho State Journal
Auction Features Western, Antique Collectibles
July 13, 2005
A 20-year collection of equipment, gathered from farms and ranches in four western states, will be auctioned Friday and Saturday.
The collection belonged to the late Melvin Wheeler Jackson, an educator who died here on Oct. 26, 2003, at the age of 86. He taught at the University of Illinois, Georgia Institute of Technology in Atlanta and University of Colorado in Boulder. He retired in 1983 from the Argonne West National Lab as senior plant engineer.
The two-day auction of western, glass and antique collectibles will be 5 p.m. Friday and 9 a.m. Saturday at the Jackson home at 5101 Whitaker Road in Chubbuck. Anyone desiring to preview the collection is welcome to stop in Thursday between 1 and 6 p.m. and Friday between 8 a.m. and 5 p.m.
There are three acres of horse-drawn farm and fire equipment, an antique blacksmith collection, tools, western gear, horse-drawn buggies, metal sculptures, wagon wheels, railroad memorabilia and more.
Sarah Jackson, one of Mr. Jackson's three children and the only daughter said, "My father's collection is an accumulation of over 30 years attending farm auctions and other sales. He had a great interest in American history and particularly Native American history. He had an appreciation for the hard work and challenges of those who came West."
For more information, call 208-232-4912.
If you go...
What: Auction of western, glass and antique collectibles owned by the late Melvin Wheeler Jackson.
When: Friday at 5 p.m. and Saturday at 9 a.m. at the Jackson home at 5101 Whitaker Road in Chubbuck.
Preview: Anyone desiring to preview the collection is welcome to stop in Thursday between 1 and 6 p.m. and Friday between 8 a.m. and 5 p.m.
Questions: Call Prime Time Auctions at 232-4912.

Source: Idaho State Journal
U.P Auction Nearly Ready to Roll
February 9, 2005
Tanner Hernandez enjoys digging into a modern-day archaeological site for 14 hours a day.
Since November, the latest dig for Hernandez and a crew of 20 has been the 12-story, 575,000-square-foot former headquarters of Union Pacific Corp. in downtown Omaha.
"I feel like a historian," he said.
The first of more than 10,000 items will go up for auction Thursday, the start of a three day sale down the street from the U.P. building in a ballroom of the Doubletree Hotel, 1616 Dodge St. The sales total could reach $500,000, said Hernandez, general manager of Prime Time Auctions of Pocatello, Idaho.
Auctioneers operating simultaneously in two rings will sing out bids on such finds as original 1910 door hardware bearing the U.P. logo, as well as mundane office items such as desk lamps, cubicle panels and cleaning equipment. Online bids also will be accepted.
"We'll be lucky to get through it in three days," Hernandez said.
Doors will open at 8:30 a.m. each day, and the auction will run from 9 a.m. to "whenever we're done," Hernandez said, which he estimated will be about 6:30 p.m. each day.
The potential treasure-trove has drawn interest from as far away as Chicago and Denver, he said.
Other than a few select pieces on display at the hotel, sale items won't be present. They'll be shown on large video screens and listed in detail in an auction catalog. The items themselves remain at the U.P. building, and no preview was offered.
Unusual finds have brightened what otherwise could be tedious work for the auction crew as they catalog, photograph and box, for example, hundreds of dust coated valves and pipe fittings from a wall-length cabinet in the overwhelmingly musty basement.
Or listing the details of conference chairs, desk chairs, reception chairs, dining chairs - 5,000 chairs in all.
Not everything was so ordinary. But not all of the fun finds will be found up for sale.
The staff of U.P.'s Railroad Museum in Council Bluffs took custody of anything with historical significance, such as paperwork and maps.
One unusual auction-bound find is a rack of floor plans and elevations for U.P.'s new head-quarters and its Harriman Dispatch Center.
Other offerings:
Tables featuring replicas of the golden spike that completed the Transcontinental Railroad.
A medical exam table from U.P.'s health clinic.
A 1995 Pontiac Grand Am 2.3L "automatic good tires (overheats & no stereo)."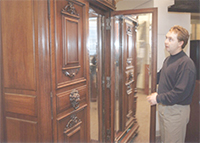 Tanner Hernandez shows off a walnut wardrobe that will be sold at the Union Pacific auction this week. The three-day auction, which begins Thursday, will be at the Doubletree Hotel, 1616 Dodge St.
A nearly 1O-foot-tall walnut wardrobe from the 1800s with ornately carved lion-head handles and four beveled mirrors; labeled, "Ch. Jeanselme & Co., Paris."
The wardrobe could sell for as much as $5,000, but predicting how much items will bring is difficult, Hernandez said. U.P. didn't set minimum bids.
The auction also gives employees, the public, rail buffs and even employees from other railroads an opportunity to bid, he said.
Employees might be especially drawn to an elegant desk made of Canadian cherry. It once held the nameplate of the company's top executive, Richard K. Davidson.

Source: Omaha World-Herald
Story By: Stacie Hamel
World-Herald Bureau
Local Auction Makes Way For New Development
December 3, 2004
Pocatello - Out with the old in with the new; That has been theme around the Pocatello Industrial Park, a property soon to be developed by a well-known national chain as part of an exciting new development for the Pocatello area.
In order to liquidate his remaining inventory, building owner Gary Cooper has decided to hold an auction and would like to invite the entire community to take part in this opportunity. "I know this was the most convenient way to get it all done in the fastest way possible," said Cooper. "It was also the most fair for everyone. It would have been impossible to deal with everybody one on one in this time frame."
Some of the items included in the auction range from Fork Lifts, Backhoes and a variety of Industrial Equipment to Household Items.
The auction will be held on Saturday December 11th at 9:55 AM and is open to the entire public. Prime Time Auctions will be conducting the sale and has spent the past couple months in preparation for the event.
The purchasing of the Pocatello Industrial Park property will be the first step in developing this new area of the city that has received much attention over the past year. "Having this auction will clear the way for new development," said Cooper. "It will be good for the area, the community and also the economy. We're excited to participate in it."
Those interested can preview the items up for auction on Friday December 10th from 10:00 AM to 5:00 PM or on the day of the auction starting at 8:00 AM. More information is also available at www.primetimeauctions.com.
Auctioneer Gets New Title
November 30, 2004
Pocatello - After six years as an auctioneer for Prime Time Auctions, Roger Stockwell has become Prime Time's sales manager and commercial specialist. Stockwell will be attending The Reppert School of Auctioneering in Auburn, Ind. There he will be instructed by the country's top auction specialists in many different aspects of business in the auction industry.
Stockwell recently took part in the company's first live online auction, which allowed people to participate not only from the local area, but from all over the United States.
Stockwell's knowledge and experience in many aspects of the auction business continue to be a valuable asset to the auction company.
Source: Idaho State Journal
Prime Time Auctions Plans Move from Highway 30 to South Fifth
October 25, 2004
Pocatello - With a growing popularity in live auctions, Prime Time Auctions has been busy this past year providing customers with an alternative to the traditional way of selling personal items or liquidating a business.
After more than 15 years in the business, Prime Time Auctions has decided to move from its original location on 3330 Highway 30 West to a new location of 3400 S. Fifth Ave. in Pocatello, according to a press release.
As busy as they have been, one would hardly think that relocating to the other end of town would be in their immediate plans. "The new location will give Prime Time the ability to conduct more auctions on our own facility rather than relocating so many items to an off-site location," said Sales Manager and Auctioneer Roger Stockwell.
Prime Time Auctions is not the only business to have seen a great opportunity surrounding Pocatello's South Fifth area. "Business is growing there," said Stockwell. "It's only going to continue to grow. and we are excited to be a part of it."
In addition to relocation, Prime Time Auctions will also be auctioning its 2.16-acre Warehouse Facility containing a 4,000 square foot building. "We believe in the auction process," said General Manager and Auctioneer Tanner Hernandez.
"That's why when it came time to sell our own real estate we knew that this would be the best way to do it."
Source: Idaho State Journal
Auction of Items from ISU Benefactor Scheduled Thursday
May 17, 2004
Funds raised from sale of Mildred Ames's estate items will go to aid the university's College of Business
Pocatello - An auction of items from the estate of the late Mildred Cederberg Ames, a benefactress to Idaho State University, will begin at 6 p.m. Thursday in the ISU Pond Student Union Building Ballroom. Proceeds will go to the ISU College of Business for scholarships and other purposes.
"We are grateful to Mildred Ames and her family for the generosity they have shown to the university," said Dr. Carol Mahar, assistant to the dean for development for ISU's College of Business. "Mildred Ames was an amazing woman, and this auction will help her legacy live on at ISU."
Pocatello's Prime Time Auction will run the auction.
"There are treasures to be found, with many rare, interesting and fun items, including antiques and memories for every one," said Tanner Hernandez of Prime Time Auctions. "I expect it to be a short auction and items will go quickly. Be there early."
Included in the auction are two automobiles, a 1948 Pontiac and a 1961 Lincoln Continental. Other items range from diamond jewelry and ornate sterling silver flatware to antique steamer trunks and record players.
Pictures of some items can be found on Prime Time Auctions' Web site, www.primetimeauctions.com, and a complete list of items is available on the Web site.
Early bids will be accepted on the automobiles. More information on the auction is available by calling Prime Time Auctions, 208-232-4912, or by visiting its Web site.
Additional items can be donated that can be sold at the same time to benefit ISU.
A scholarship in Mildred Ames' honor was endowed at ISU in 2002 by her nephew, Ron Carlson.
Ames was honored with a posthumous degree Saturday at ISU's spring commencement at Holt Arena.
Ames was born May 18, 1907, and grew up in Firth, Idaho. Mildred met Franklin Ames while she was working at First Security Bank in Idaho Falls.
They married and worked together in the jewelry business for six years until Frank's death. Mildred continued to run the jewelry store for 30 years.
In 1983, at age 76, she sold the business and enrolled as a student at ISU.
She took classes until the age of 87, when failing health and eyesight forced her to stop.
She had accumulated more than 300 credit hours, even attending summer terms from 1983 to 1985.
Contributions may be made to: Mildred Cederberg Ames Scholarship, ISU College of Business, Campus Box 8020, Pocatello, ID 83209.
Source: Idaho State Journal
Prime Time Auctions Wins Award from Auction Association in Boise
March 13, 2004
Pocatello - Prime Time Auctions won a major award and Roger Stockwell of the firm was named a regional director at the winter convention of the Idaho Association of Professional Auctioneers in Boise, according to a press release.
The award was second place for the "One Color" ad "In-House Designed" brochures in the advertising category.
The convention drew auctioneers, their spouses and associates from Idaho, Washington and Oregon, who gathered at the AmeriTel Inn in Boise.
Featured speakers were Jeff Stokes, 2003-2004 international auctioneering champion, who spoke on "Exploring The Chant of the Auctioneer," and Susan A. Doyle of the National Auctioneers Association, who discussed "Staying Service Oriented."
The IAPA inducted into the Hall of Fame the late Dick Davis of Emmett and Bill Downs of Auction Service Inc. in Nampa.
Source: Idaho State Journal
Prime Time Auctions Locomotives
January 5, 2004
Pocatello - It started with a handful of railroad assets to be liquidated at an upcoming Prime Time Auction. Yet when Omaha caught wind of the sale, Union Pacific's Asset Manager Christian Tamack called and inquired about doing a larger sale at the Maintenance of Way Shop that had been closed in Pocatello. The arrangements were made and the sale conducted in Jan of 2003 was a huge success.
"Hundreds showed up to bid" the Idaho State Journal reported in the article covering the sale.
Tamack, pleased with the auction in Pocatello, invited Prime Time to handle a locomotive auction in California. The auction was successful with 60 locomotives selling to the highest bidders.
Prime Time was again invited to sell retired U.P.R. locomotives, this time in North Platte, Neb. Juan Hernandez, owner of Prime Time Auctions, arrived in North Platte three days early to finalize the work on all the assets sold on Dec. 9.
In North Platte the sale was conducted by video display at the Hampton Inn. Refreshments were served and classic train music was played over the loud speaker. An hour before the live auction began, Internet bidding closed, and preparations for getting phone bidders on the line were made.
Locomotive buyers from California, Texas, Ohio, Idaho, Illinois, Kansas, New York, Wisconsin, Nebraska, Arkansas and Louisiana registered to bid at the auction. Patrick Lhermitte and Dan O'Brien, asset managers for U.P., traveled from Omaha to answer questions.
The auction began and the excitement mounted as Tanner Hernandez continued to lower the bid increments until a card went up in the air. The bidding continued hot and heavy until the last bidder won at $9,000. Roger Stockwell, the second of the two man auctioning team, sold the highest at $34,000.
Two Pocatello natives purchased locomotives, Henry Fernandez of Golden Valley Sales, an investor in heavy equipment, and Henry Buescher of Pacific Recycling.
Online bidders at primetimeauctions.com won nine locomotives. Buyers from five other States purchased the remaining twenty-six locomotives. North Platte local buyers purchased retired trailers, forklifts and trucks that were also offered at the same time.
The purchasers not only buy these locomotives to make money, they enjoy what they do. They love the history, the power and the shear tonnage of these locomotives. There are chat rooms and magazines where train lovers referred to as "Foamers" (foaming at the mouth) discuss the latest train news.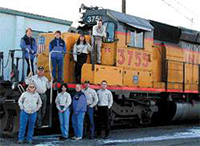 Prime Time photo - Looking over Locomotive SD 40-2 are Terry Kerler, Julie Snow, Sylvia Crockett, Cody Barfuss, Angie Hernandez, Juan Hernandez, Glenda Hernandez, Deborah Jones, Roger Stockwell and Tanner Hernandez
Wow! The diversity of niche markets in the American economy. Many people ask why not sell outright? "Competitive bidding and obtaining the maximum return on UPR Assets," That's The Why.
During the auction, U.P.R. calendars were handed out. Majestic trains were pictured in serene winter wonderlands, against rolling green hills and fruitful farmlands. It's true these beauties travel across our great nation from coast to coast.
Union Pacific's next anticipated locomotive auction to be in Texas in March 2004.
Hernandez on Way to Auctioneers Designation
April 22, 2003
Pocatello - Angie V. Hernandez of Prime Time Auctions of Pocatello has successfully competed two of three courses necessary to earn the Certified Auctioneers Institute designation, the highest designation awarded in the auction industry.
The program is an extended study executive education program designed for decision-makers in auction firms and is offered by the Auction Marketing Institute at Indiana University in Bloomington, Ind.
Hernandez is one of 91 auctioneers throughout the United States and Canada who are candidates for the CAI designation. A total of 827 auctioneers hold that designation.
Source: Idaho State Journal
Idaho Auctioneer Association Honors Pocatello Business
February 4, 2003
Pocatello - Prime Time Auction of Pocatello was awarded four first-place and two second-place awards for its advertising, according to a press release.
They received the awards at the Idaho Association of Professional Auctioneers convention, which took place Jan. 17-19 in Boise.
This year two members of the Prime Time Auction staff took part in the convention.
Source: Idaho State Journal
Hundreds Show Up to Bid on Railroad Equipment
January 23, 2003
Pocatello - The old adage, "One man's trash is another man's treasure," was on full display Wednesday during an auction inside the Union Pacific Railroad Maintenance of Way building.
Several hundred people, many from outside Pocatello, bid on material and equipment considered no longer useful by Union Pacific.
The sale, conducted by Prime Time Auctions of Pocatello, was the third in the past four years at the Pocatello yard, according to Mike Furtney, UP's Western spokesman.
The 477 items auctioned off came from various parts of UP's rail system.
"UP has (auctions) all over the place. This is one of the smaller ones," said Prime Time Auctions owner (Juan) Hernandez.
Just like items being auctioned, many of the people who attend came from various places.
Robert Perry of Utah bought a revolving hydraulic hose reel rack for $125. Weather he got a bargain remains to be seen.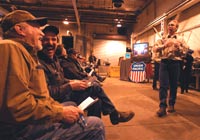 Auction featured property from Union Pacific system
"I don't know whether it's a good deal or not," he said. "You never know until you've had it hanging around for a few years and had a chance to use it."
Denise Merritt came to the auction with friend Chan Underwood, who owns a crane service in Jackson, Wyo.
"He's looking at all kinds of stuff," Merritt said of Underwood. He dabbles. If it's equipment and if it's greasy, he wants to buy it."
The Last time the pair were in Pocatello for a Prime Time auction, they bought an RV and a Ford Thunderbird, she said.
"Anybody who has a shop should be here," said C. Cutler, who had her eye on some of the machines, tractors and hand tools. She was pleased to bid a total of $2,500 to obtain them.
Merritt said she and Underwood don't come with a preset limit on how much they will spend.
"If he wants it, he's going to bid on it. When (Prime Time officials) see me, they're happy because they know I have the wallet."
Chubbuck Farmer Jim Webber said curiously, more than anything else, brought him the auction.
"I'm kind of interested in one of those warehouse ladders," he said. "Just to use out on the farm. They're kind of handy to get up on roofs."
Items sold included two 2 ton overhead cranes; complete torch repair station; portable battery power unit; grease pump and sprayers; 200 horsepower hydraulic test bench with hoses; 150-ton press; dry ice machine; utility vehicles; fire hose; and utility buildings.
Source: Idaho State Journal
Story By: Sean Ellis, Journal Writer
Pocatellans Are Bit by the Auction Bug
November 10, 2002
Pocatello - Local collectors got to bid on precious glassware Saturday seldom found for sale in the Gate City.
Art glass from famed companies such as Tiffany, Tiffany Favrile, Steuben, Victor Durand, Quezal, Pate de Verre and Alexandrite fetched prices ranging from hundreds of dollars to several thousand dollars at the auction, hosted by Prime Time Auctions of Pocatello.
The collection of about 450 items was assembled by an attorney and his wife, who traveled the country and the world purchasing Indian relics and glassware at auctions. The attorney died, and his widow, who asked not to be named, is moving from her home on Satterfield Drive in Pocatello to a smaller house.
Indian artifacts from the Navajo, Apache and Zuni tribes were also sold. The auction drew collectors from surrounding states, and auction workers took bids from throughout the country by phone and the Internet.
"These type of auctions don't happen here. They happen in Chicago, New York and California," said Sylvia Crockett, Prime Time office manager. "You can't find this type of glassware in Pocatello."
Jane Spall, of Pocatello, attended the auction in hope of finding a Steuben art glass piece to match one she purchased for a song at a Blackfoot auction. Spall said most people at the Blackfoot auction were bidding on horse equipment and tools, and she got the Steuben piece valued at more than $800 for $45.
"These people look much more polished than the ones we were bidding against (in Blackfoot)," Spall said.
Lynn Murdoch, anthropology collections manager for the Idaho Museum of Natural History, collects glassware and porcelain.
"They have such a variety this time, and all of it's so high quality, if you took anything home you'd be doing OK," Murdoch said.
Saturday, however, she was looking to buy a piece of furniture to store collectibles.
Louise Crawford, an antiques dealer with Her Alibi in Pocatello, said she was impressed with the art glass collection.
"They have some excellent, excellent items," Crawford said.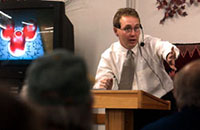 Source: Idaho State Journal
Story By: John O'Connell, Journal Writer
21st Bengal Auction Draws Record Crowd: Tally of Auction Proceeds Due Next Week
April 8, 2001
Pocatello - The 21st Idaho State University Bengal Auction on Saturday turned out just like Foundation Director John Colaianni had hoped.
The crowd at the at WestCoast Hotel was one of the largest ever, 10 short of 500 people. The handmade decorations, Mexican menu and music just fit the Bengal Fiesta theme. And Prime Time Auctioneers Tanner Hernandez Jr. and Mario Hernandez, returning by popular demand for the second year, knew how to keep the crowd excited during three hours of auctioning 80 main items.
Colaianni has been involved in all 21 Bengal Auctions, first as a volunteer and then as director twice. "Everything has gone like clock work this year," he said, crediting the hard work of a 45-member committee co-chaired by Mari Tusch and Donna Hays.
Colaianni admits he still enjoys being involved in the auction after all these years. Longtime Bengal Foundation secretary, Marva Grigora left that position last fall but was back as a volunteer to help with the preparations. Many of the same volunteers like Bob Peyron, Ted and Debbie Flandro can be counted on every year.
Colaianni thinks the reason the auction stays vibrant is because the people who work on it really enjoy it.
Emcee Bart Rankin, dressed in Mexican attire, called special attention to longtime Bengal Foundation supporter, Dave Kirkpatrick, who will be 86 on Monday.
When it came time for the auction to start, the auctioneers got off to a good start. A piata stuffed with sports items went for $100. ISU Coaches Larry Lewis and Doug Oliver were called on to help with auction item No. 20. This was a day of golf with the coaches.
Greg Romriell and his wife, Leslie, had hurried back from Boise to attend the dinner. Romriell recalled a story of a past Bengal Auction when Tom Jewell, former ISU athletic director, and his wife, the late Carol Jewell, were bidding mistakenly on what they thought was a bargain item for their cabin. To their surprise, the item on which they placed the top bid was an old-fashioned fish bowl.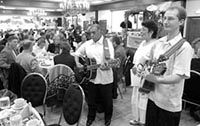 Journal photo by Bruce Twitchell - From right, Mark Harris, Ramona Awes, and Joe M. Garcia entertain the crowd at the 21st annual Bengal Foundation Auction at the WestCoast Hotel Saturday night.
The main auction was only part of the event. The silent auction, featuring everything from a bright green child's car to paintings, attracted much attention. Businesswoman Brigette Adams put her bid in the silent auction on a soccer camp for her daughters.
The goal for the auction was $50,000. Colaianni is hopeful the proceeds will exceed that amount. However, it will take about a week before all the figures are totaled.
Source: Idaho State Journal
Story By: Joy S. Morrison, Journal Community Editor
Toy Auctions Bring Early Memories
February 20, 2001
Pocatello - Like many children, Dan Rowe loved toys.
Because his family was large, Rowe was always getting new toys from aunts and uncles.
It was like Christmas every day, he said.
As he grew older, however, Rowe loved toys enough to make a living out of them. Over 30 years, he has collected thousands of toys, some of them worth thousands of dollars.
On March 3, Rowe will sell all of the toys at auction and retire from the business.
Most of Rowe's playthings are cars. He has a Volkswagen Bug with a sun roof, and a Greyhound bus from 1930 with a door that opens and closes. He has cars children can ride, and cars that hold whiskey. One of his cars, a light blue 1950s Japanese tin Buick, is extremely rare, and worth nearly $4,000.
Its one of the few in the world, he said.
The Japanese tin toys are his favorite, Rowe said, because the tin makes the cars look real. American toys are better quality.
I like the colors and the artistic looks, he said.
While Rowe found many of his toys at antique shops, he found some of them in dumps. He spent time restoring some of the rusty cars, making them look new.
In addition to his cars, Rowe will be auctioning old signs, metal lunch boxes and trays, Disney character memorabilia, board games, coloring books, paper dolls and thousands of other toys, many in mint condition. Toys are worth more if they have never been played with and still have the original box, he said.
The auction will be handled by Prime Time Auctions. Owner Angie Hernandez said it was hard to tell how much Rowe would make from his toys. The auction was advertised in national magazines, and people from across the country have contacted Hernandez about the auction.
Its always hard to tell with an auction, she said. We've never sold this many toys, ever.
After he retires, Rowe plans to move on to bigger toys, working on his antique car collection.
Source: Idaho State Journal
Story By: Emily Jones
Journal Writer