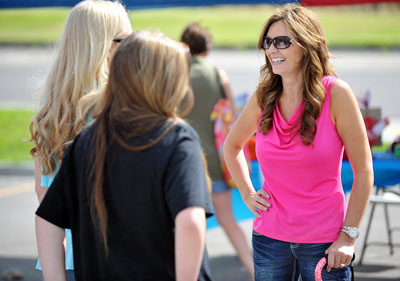 Recovering from injuries she recieved when she was struck by a pickup in the Boise Towne Square Mall on May 14, Angie Smoot, right, relied on a cane to help her walk and mingle with friends and family Saturday at a Fundraiser in her benefit at Prime Time Auctions.
POCATELLO - People from across the state converged on the parking lot of Prime Time Auctions on Saturday to pay tribute to a woman who was seriously injured while helping to stop a sexual assault in the parking lot of the Boise Towne Square Mall on May 14.
Using a cane to help her walk, Angie Smoot was busy hugging old friends and shaking hands with strangers, who had come to the fundraiser to help cover medical costs for the mother of two sons who put herself in harm's way and paid the price.
Smoot has been recovering from the broken right leg and fractured left hip and pelvis she suffered when a fleeing suspect drove his pickup into her.
Greggory Lee Macho, 31, of Boise, has been charged with four felonies in the incident, including kidnapping and aggravated battery. In addition, Boise police charged Macho's wife, Jessica, and his brother Richard with destroying evidence in the case.
Even though strangers walked up to Smoot on Saturday afternoon and thanked her for what she did that May 14 evening in Boise, she was the one giving thanks.
"I'm shocked at how many people come together and show support," Smoot said. "I keep telling my boys there's a lot more good people than bad people."
Since Angie's story was printed in the Journal and the Idaho Statesman, the family has received dozens of cards, letters and donations.
"It's amazing the cards that my wife has been getting," her husband, Ryan Smoot, said. "People she has never met have offered to help her out. I've never experienced anything like this before."
Angie said reading those letters isn't easy for two reasons. First, she doesn't consider what she did particularly heroic and, second, the concern and thanks make her cry.
"I definitely shed tears when I read them," Angie said. "I've saved all of them."
But Angie's struggles to recover from injuries in the Boise assault case are not her first bout with serious medical issues, according to her best friend and owner of Prime Time Auctions, Staci Hernandez. Angie is a cancer survivor.
The two have been best friends "since the first day of seventh grade," Hernandez said.
Shortly after she graduated from Pocatello High School, Angie was diagnosed with a cancerous growth in her abdomen. Surgeries and chemotherapy followed.
"She's a strong, strong person," Hernandez said about Angie's battles in life.
With tears in her eyes, Hernandez shared a glimpse into Angie's true character.
"After she recovered from cancer she said, 'I'm glad it was me and not you. You wouldn't have made it,'" Hernandez said.
Hernandez, who had helped put together Saturday's fundraiser, said the generosity of Southeast Idaho never ceases to amaze her. Donated items, including a free bed liner treatment for a pickup and a custom granite countertop, were still coming to the auction as the fundraiser was starting.
"We live in a great community," Hernandez said.
In addition to items for the auction, both silent and live, cash donations were made by groups and companies including Intermountain Gas, Idaho Power Co., Gate City Rotary and Pocatello Rotary.
And the money raised by the event will go to good use, according to Hernandez. Angie's medical insurance doesn't cover the intensive physical therapy sessions she must undergo three times a week. That therapy will continue for several more months.
"I just hope this helps," Hernandez said.
Angie has a different take on all the efforts done on her behalf.
"It makes me want to help people in the future," she said. "Every little bit makes a difference."
And as the criminal case moves through the court system, Angie has remained in touch with the young woman who was being attacked in a parked car at the Boise mall. They connect on Facebook.
"I think she's had a lot of guilt over it," Angie said about the fact her attacker drove his truck into Angie. "She's thanked me many times, but none of this was her fault."
Then Angie revealed her nature again.
"You know, today's her birthday," Angie said.